4 Christmas recipes to cook birds and succeed
Poultry dishes (chicken, turkey, duck…) are one of the stars of festive meals. If this year you want to include them in your Christmas menus but you don't know how to prepare them, take note of the following suggestions.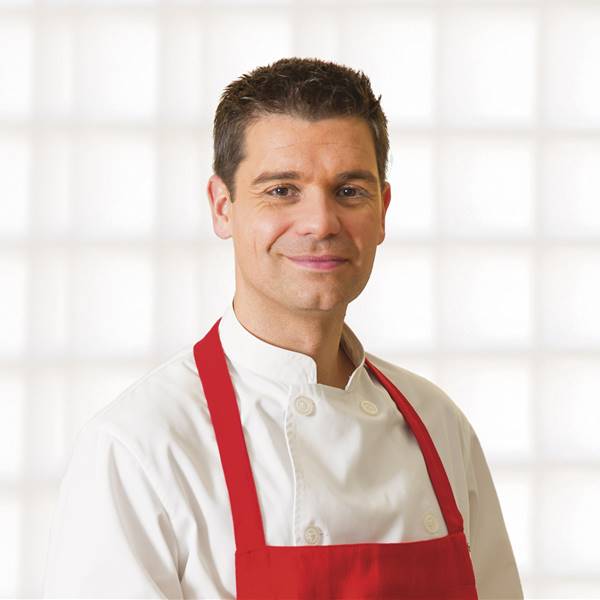 Sergio Fernandez
Cook
Without a doubt, dishes made with poultry are a good solution for your Christmas menus. They are usually prepared in the oven , so while they are cooking you can take the opportunity to do other things on a few days when tasks tend to accumulate.
BEYOND TURKEY AND CHICKEN
If this year you want to bet on them without giving up a little innovation , to give a special touch to your dishes you can bet on poultry especially appreciated in the kitchen, such as…
Castrated chicken or rooster (known as poularda and capon ), which favors that their meat ends up being richer in infiltrated meat. The result is a product with a tender and juicy texture, very suitable for cooking in the oven.
Another option is the guineafowl , or guinea fowl. This species of bird from Africa (although it is currently also raised in Spain), has an intense flavor and a tender texture.
You can also opt for autochthonous breeds that are highly recognized among chefs in our country, such as the Pota Blava (from Prat de Llobregat, in Barcelona) or the Euskal Oiloa (or Basque hen).
Of course, resorting to classics such as free-range chicken, duck or quail is another great option for your festive dishes, which can share the limelight with other equally typical Christmas proposals, such as sweets (nougat, shortbread…) .
Do you want some ideas of what to do with all of them? We show them below in the following recipes with birds .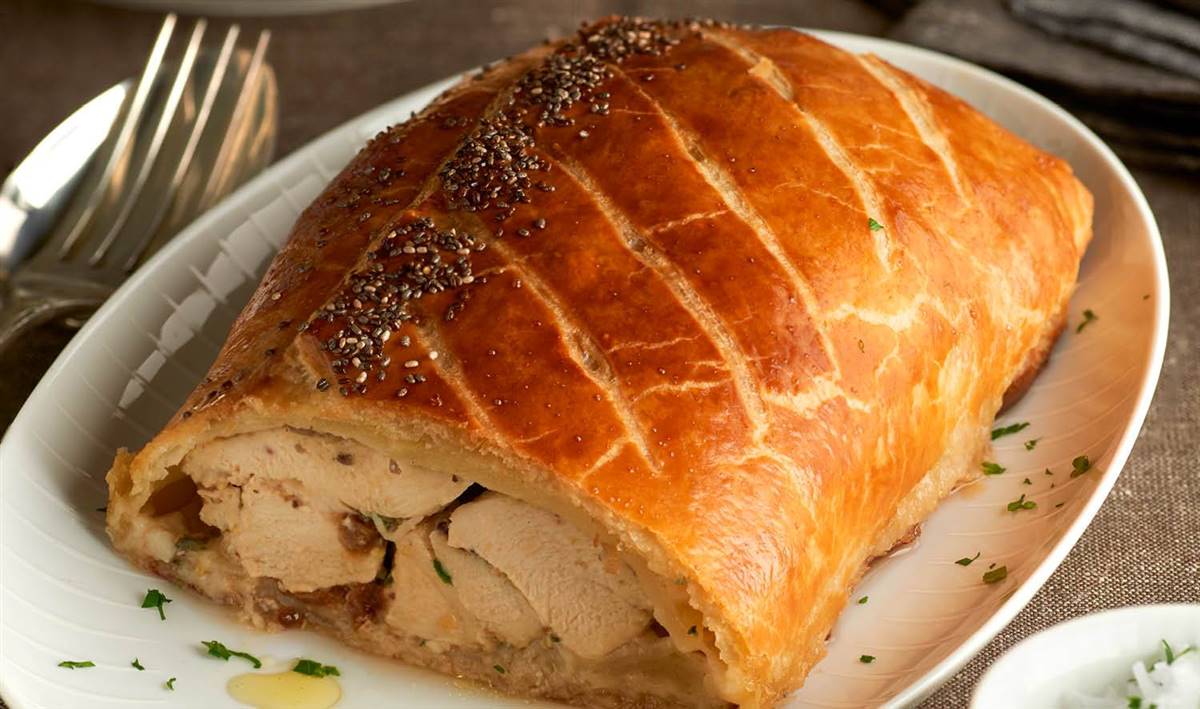 1 | 12Chicken Wellington with mushrooms
Ingredients (4 people):
• 700 g of chicken breast • 1 sheet of puff pastry • 250 g of mushrooms • 1 egg • 100 g of pâté • 40 g of dried tomatoes in oil • 2 sprigs of parsley • 2 shallots • 2 cloves of garlic • 1 tbsp. tarragon mustard • 1 tsp. of chia, sesame or poppy seeds • Olive oil • Pepper • Salt
Preparation:
1. Cut the breast into large cubes and place them in a bowl. Add the mustard, dried tomatoes and chopped parsley, salt and pepper, and stir to mix the flavors. Cover and let marinate for about 30 min.
2. Peel the garlic and shallots, also chop them and fry them in a pan with 3 tbsp. of oil, until golden. Add the chopped mushrooms, salt and pepper and sauté for another 6 or 7 minutes. Remove and let cool. Add the chopped pate and mix.
3. Spread the puff pastry on the plate lined with parchment paper. Spread a little of the previous preparation on top, place the meat in the center and cover with the rest of the mixture of mushrooms and pate.
4. Brush the edges of the puff pastry with beaten egg and wrap the filling with the dough. Seal the edges, folding the ends down. Paint the entire surface with more egg, make some marks with the tip of a knife and sprinkle with the seeds.
5. Bake the puff pastry for 35 or 40 minutes, until golden, with the oven preheated to 200º. Remove it and let it rest for 10 minutes before cutting it. Arrange it in a long dish and serve.
2 | 12honey roasted quail
Ingredients (4 people):
• 4 quail • 40 g of raisins • 2 tangerines • 2 tbsp. of honey • 1 glass of white wine • 1 spring onion • Flour • Olive oil • Salt
Preparation:
1. Clean the quail and bridle with twine. Place them on a baking tray, add a pinch of salt and paint with honey. Roast at 180º for 35-38 min, and water them with white wine and water while they cook.
2. Sauté the chopped onion in a pan over medium heat with a little oil. Add a pinch of flour and the juice that the roast releases. Let thicken, season and strain. Add the raisins and the tangerine in segments to the strained sauce.
3. Carefully remove the string from the quail, serve and drizzle with the previous sauce.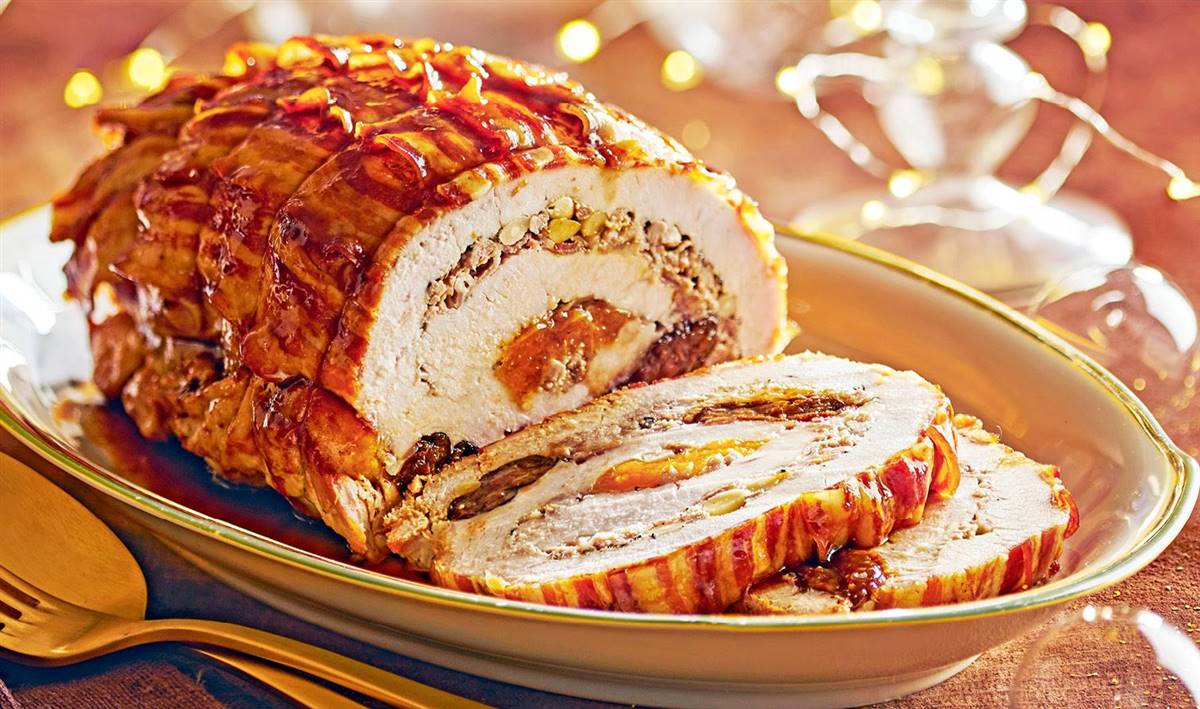 3 | 12Baked turkey round with bacon crust
Ingredients (4-6 people):
• 1 turkey breast • 10 or 12 thin slices of bacon • 8 dried apricots • 6 pitted dried plums • 1 onion • 250 g of minced pork • 4 tablespoons of peeled pine nuts • 1 canned truffle • 2 tablespoons of butter • 100 ml vinegar • Olive oil • Pepper • Salt
Preparation:
1. Heat the butter in a non-stick frying pan, add the sliced ​​onion and sauté for 6 to 7 minutes, until translucent. Add vinegar and let reduce 3 min.
2. Add the dried apricots and plums (previously hydrated and drained) and cook for a further 5 minutes. Add the meat, the pine nuts and the chopped truffle with its conservation liquid, and continue cooking for 20 minutes.
3. Remove the rinds and small bones from the bacon slices and spread them out on the work surface; Arrange them slightly ridged and forming a rectangle.
Place the chicken breast cut as if it were a book and seasoned on top and cover it with the prepared filling. Roll it up little by little, with the bacon, and tie it.
4. Brown the roll in a frying pan for 4 or 5 minutes on each side, then transfer it to a baking dish, sprinkle it with a splash of oil and bake in a preheated oven at 200º for about 50 minutes.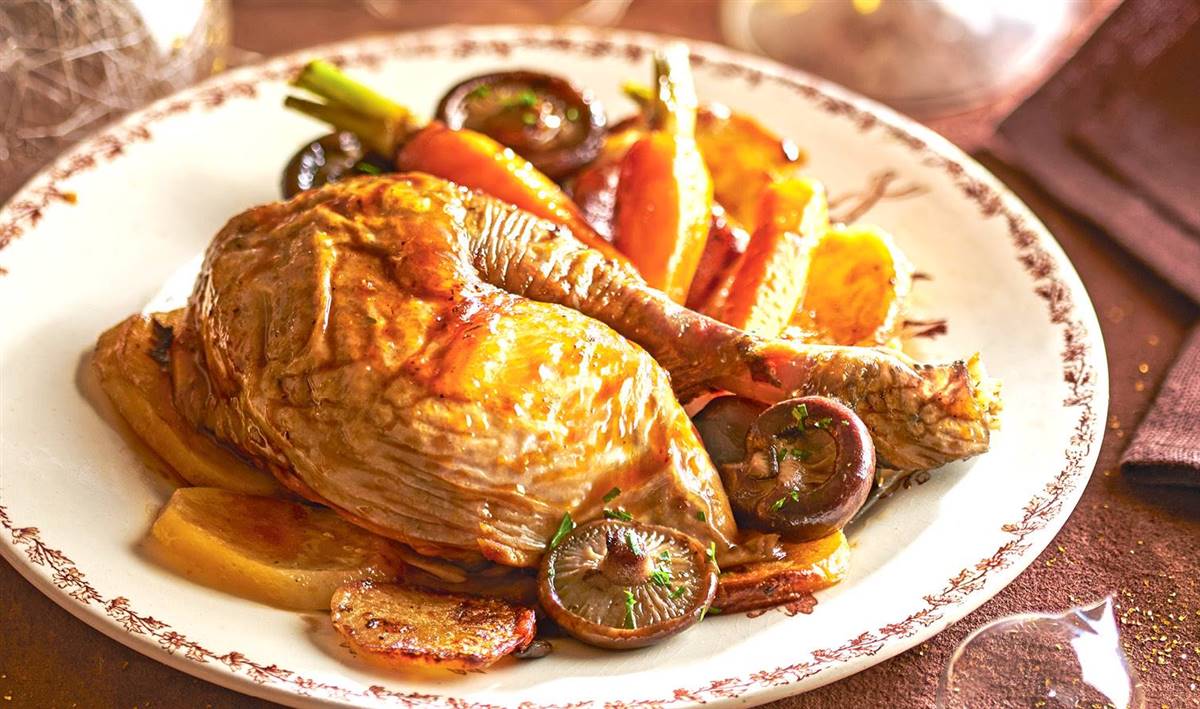 4 | 12Poularde with potatoes, vegetables and mushrooms
Ingredients (6 people):
• 1 pound of 2 kg • ½ teaspoon of chopped thyme • 2 cloves of garlic • 600 g of baby carrots • 3 onions • 6 potatoes • Peeled almonds • Peeled pine nuts • 30 g of slices of cured ham • 250 g of seasonal mushrooms • 150 g of shiitake mushrooms • 100 ml of Port wine • Parsley • Olive oil • Pepper • Salt
Preparation:
1. Peel 1 garlic, place it in the mortar and mash it with the thyme and a trickle of oil. Season the poularda with salt and pepper inside and out, spread it with the mixture and let it macerate in the fridge for 2 hours. Fill it with the almonds, the pine nuts and the chopped ham, and close the opening; wrap the end of the legs with aluminum foil and tie them.
2. Arrange the onions and potatoes , peeled and cut into slices, in a baking dish, and salt and pepper. Place the poularde on top and bake for 1 hour (with the oven preheated to 175º). Every 20 min water it with its cooking juice. Pour in the port and roast for a further 40 min. Add the blanched carrots and bake for 20 min. Remove roast, cover with foil, and let rest 20 min.
3. Chop the remaining garlic and parsley, and fry in a pan for 2 min. Add the cleaned and chopped mushrooms if they are large and sauté for 2 or 3 minutes. Remove the thread from the poularde and carve it. Divide it on the plates, with the potatoes, onions and carrots. Add the mushrooms and serve.