Brascada sandwich, a classic Valencian recipe
With the good weather also come excursions to the beach, the countryside, the mountains and with them the sandwiches. Those little jewels of our gastronomy that, wrapped in aluminum foil, become a gastronomic delight sitting by the sea or on top of a mountain, like this brascada sandwich .
And it is that although we have them a little forgotten, sandwiches are an essential part of our gastronomy. That is why in the coming weeks we will be discovering the classic sandwiches of our gastronomy , so that you do not lack a repertoire. Whether for an excursion, a day at the beach, a game day or simply a dinner on the terrace with friends, there are no excuses to eat a good sandwich.
Ingredients
For 1 people
Beef steaks or 21
Onion0.5
Garlic clove0.5
Serrano ham slicedtwo
loaf bread
extra virgin olive oil
Salt
How to make a brazada sandwich
Difficulty: Medium
total time20m _
Elaboration5m _
Cooking15m _
Brascada is a classic from my land, Valencia. I like it because it is intense as well as juicy and, although its preparation requires the necessary patience to poach the onion, it is worth the wait.
We start by cutting the onion into julienne strips and browning it over medium heat in a pan with a drizzle of oil and a pinch of salt. Let it soften for at least 10 minutes. On the other hand, we make the veal fillets with a little minced garlic and we also pass the slices of serrano ham through the pan.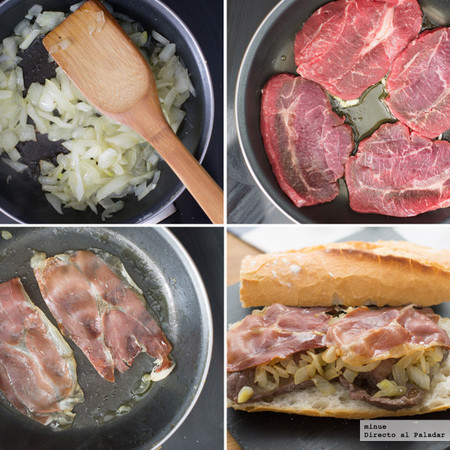 Finally, we assemble the sandwich with the veal, the onion on top and crowning it with the slices of Serrano ham. Some people add a slice of cheese to this sandwich, but I personally think that there is enough flavor that way.